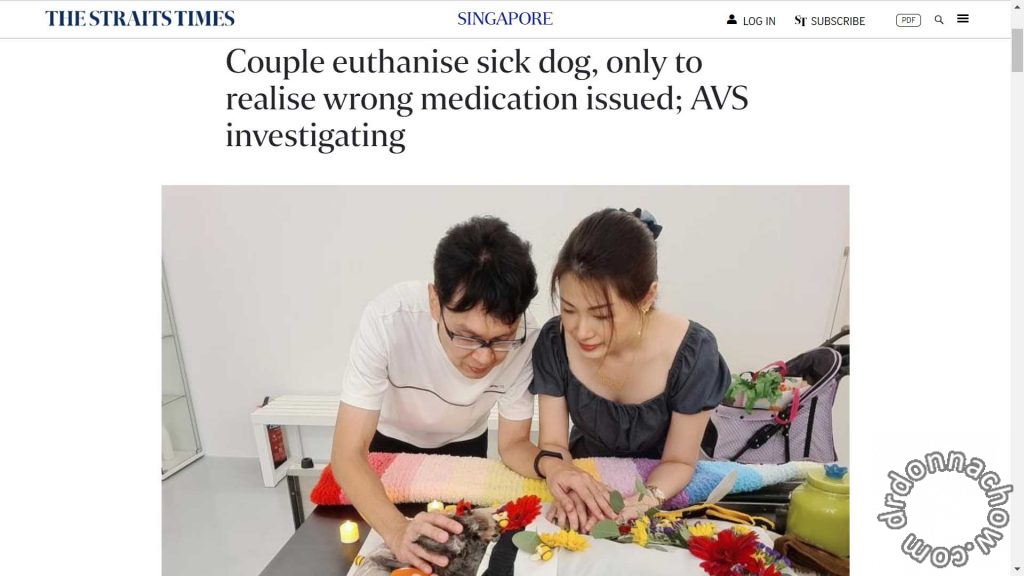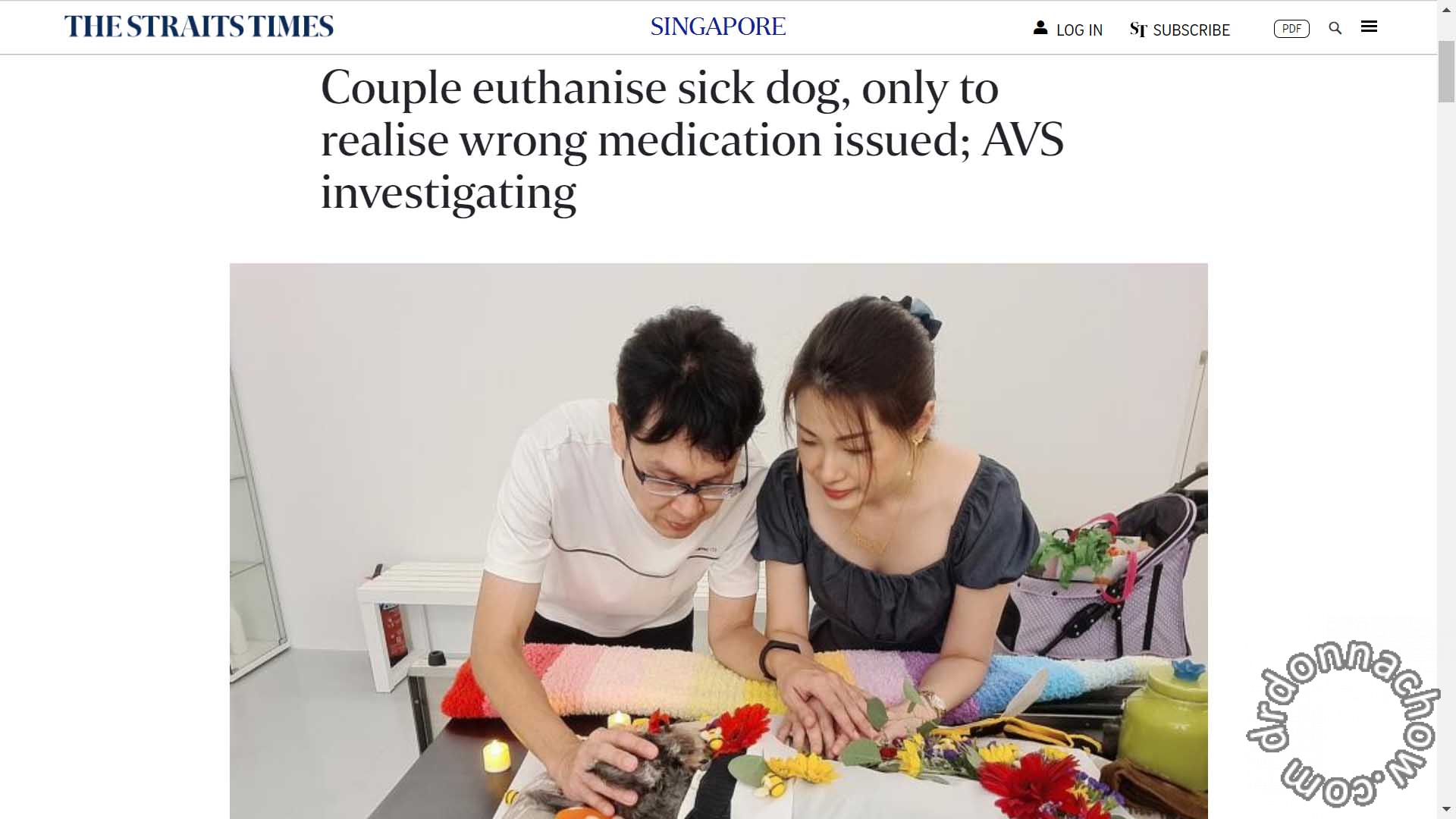 Story of Ah Bee's tragic demise was picked up by a Straits Times reporter. Read the online version of the full article here.
"When contacted, Mount Pleasant Veterinary Group field director Bessy Chua said: We are taking steps to ensure our existing rigorous protocols for prescribing and dispensing medications are upheld to prevent errors." She added: "What we can confirm is that we have no reason to believe pimobendan had an adverse impact on his (the dog's) health or outcome."
Poor PR skills from Mount Pleasant
Instead of an apology for the wrong medication, Mount Pleasant defended themselves to say that their existing protocols are rigorous. This must be indeed laughable. How do they explain that the wrong bill was also given to us on a separate occasion? If you have made a mistake (or more than one mistake in this case), admit it, apologize and look at ways to improve yourself. There is nothing more ridiculous to say that you are not in the wrong.
No adverse health impact on the dog?
This is an absurdly insensitive thing to say and from the mouth of the institution which has given the wrong medication. Pimobendan is a medication for dogs with heart failure. It is potentially fatal given to dogs without heart failure. And a double dosage was given to a dog with serious kidney failure? I would challenge whoever who said that it had no adverse health impact to sample Pimobendan herself – at a double dosage of her body weight. Only then will this person be able to declare that a wrong medication can be given without any adverse health impact. Let her get a taste of her own medicine. Literally and figuratively.
The new soldier who called me to say she knew nothing
Ms Bessy Chua was the one who made the phone call from Mount Pleasant to me. Throughout the conversation, she said she had just joined Mount Pleasant and she knew little about their work processes. Is she the one who made the remark that taking a wrong medication at a wrong dosage has no health impact? I doubted so. It must have come from a more senior person who is resistant about change and one who feels that he has done no wrong. This is a flawed institution with irresponsible people. Without punitive measures in place, every vet thinks they are entitled to treat animals the way they feel like treating. Vets need to be regulated and kept in check by a neutral professional board whose main duty is towards the welfare of the patients, not the doctors.
Medical mishaps can happen to anyone, including a doctor's family
I wish to reiterate the fact that medical mishaps can happen to anyone. This is a common theme that circulates on social media with people pointing fingers at me to say why didn't I notice this medication error myself. I have explained to you in my earlier posts that I was not the one who administered the medication. Yes, I should have checked. I do not deny I am partly at fault as well. But it doesn't take away the fact that the wrong medication was issued by the hospital. And this can happen to anyone, including a doctor's family. We are equally humans who have our lives to attend to. We are not omnipresent in every part of the universe of our family members. I took care of Ah Bee in other ways such as cleaning his ears and brushing his teeth. My husband was the one who took care of his medication. He was a careless man who would typically pocket the bill without taking a second glance at the details. He had his fair share of blame and guilt. The bigger picture, in this case, should be the multiple care lapses that have gone unnoticed and how we should come together to change the system.
If you agree with what I have said, please support my online petition.
Prevent pet death due to irresponsible vets – Regulate vets today.
Let Ah Bee's early demise help to leave a legacy to improve pet welfare in Singapore.