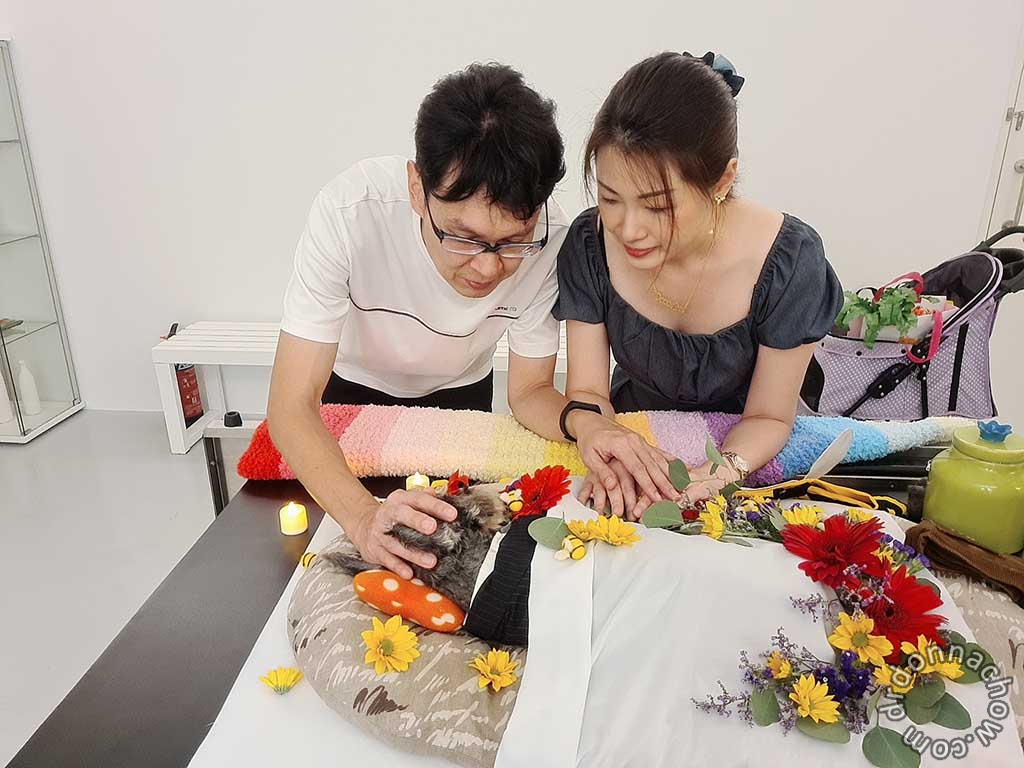 I am writing this post with great pain and heartache. For those who personally know me, you will be aware how much Ah Bee, my miniature schnauzer, means to me. He came into our lives 12 years ago, and I have always regarded him as my first child. We have enjoyed and celebrated many milestones together; from competitions and photoshoots to birthday celebrations and staycations. A few years ago, I also wrote a children's book in his honor to raise funds for dog welfare groups.
The failed surgery…
In recent years, as age caught up with him, he unfortunately developed bilateral cataracts which caused him to have reduced vision. As human parents, it pained us to see that he was knocking into things at home and had difficulty climbing the stairs at night (because he couldn't see very well). Thus, we made the decision to send him for elective cataract surgery at Mount Pleasant in May 2021. It proved to be the worst decision in our lives because the surgery was eventually a total failure; he developed glaucoma in his right eye and this required round-the-clock eyedrops to control his ocular pressure. Thankfully, his left eye was not treated during the surgery and he was still able to retain some vision in his left eye (with cataract).
We have presumed that the success rates for cataract surgery is high as it is a common surgery for humans. Nonetheless, we have underestimated that animal medicine is far less advanced and the standards could not be comparable to human medicine. Was he pure unlucky to suffer the complications of blindness from an elective cataract surgery? Or was the skill and expertise of the surgeon and facility care questionable? If we knew the odds were against us, we would have not gone ahead with the procedure.
Afternote: It turns out that the surgeon who operated on Ah Bee is not an veterinary eye specialist by training.
Read my post on The phone call from Mount Pleasant.
Without a doubt, when things go wrong, one will start to question the training and expertise of this doctor. Did AVS investigate the failure rate of cataract surgeries under the same doctor? If it is a surgery which will cause more harm than benefits, should we still subject our pets to unnecessary suffering?
Following the surgery, he had a few incidences of eye infection which required antibiotics and more intensive treatments to relieve his ocular pressure. His condition deteriorated rapidly over the months and he developed chronic kidney failure and gastrointestinal bleeding which required 3 episodes of hospitalization. This is not to mention the regular checkups he had to undergo to review the ocular pressure in his right eye and to adjust the eye drop treatments as required. We continued to send him to Mount Pleasant hospital since his medical records were with them and trusted they would do their best to help him recover.
However, this was not the case. I visited him during one of the admissions in December 2021 and was appalled at the condition he was in. I couldn't visit daily because of the Covid restrictions. They had limited to one visitor a day and we took turns. After 6 days he was with them, his ears became smelly and started discharging pus. There were stains on his cone around the neck. The hospital staff did not appear to clean his eyes and there was yellow sticky residue coming out. His fur around the muzzle was smelly and matted with food. I cried when I saw him and questioned the vet why he was treated like this. The vet told me they were busy treating his other conditions and didn't check his eyes, ears and mouth! As a medical doctor, I felt that this was totally an unacceptable explanation. We have always been taught to treat humans as a whole being. Does animal medicine deviate so much from us?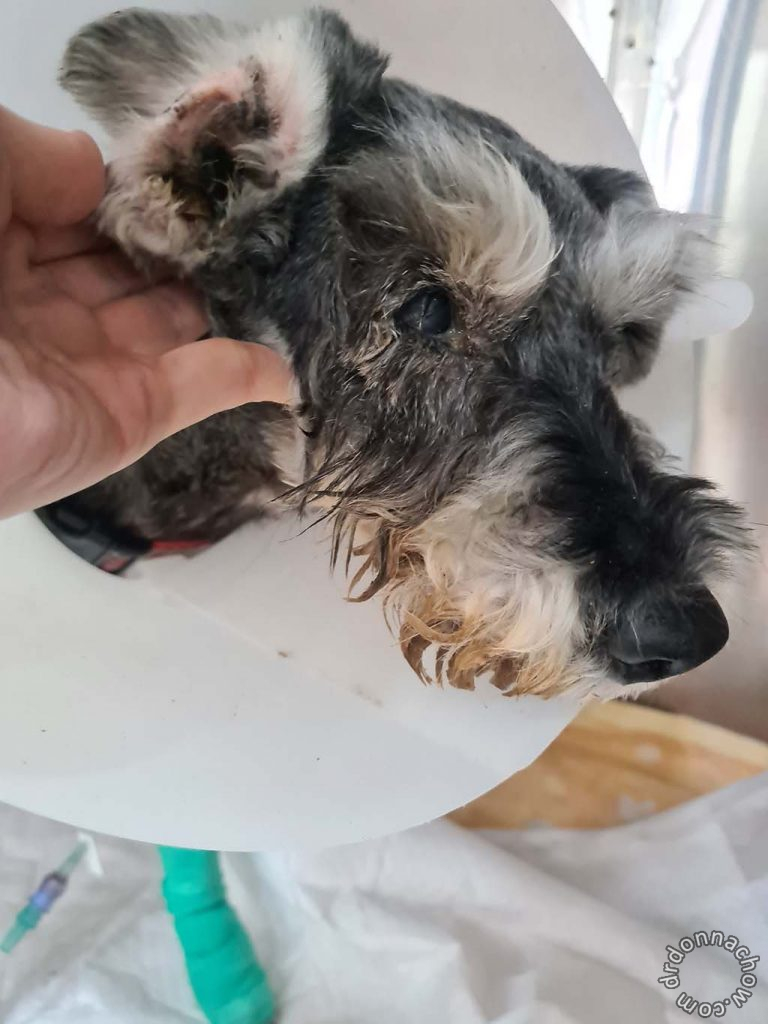 As a result of that admission, he suffered from eye and ear infection and was discharged with more medications. We were told that his kidney function was not doing well and he had at most, months to live. Nonetheless, we hoped the best for him and wished that he did not have to suffer in his final days. He was last discharged on 3rd January 2022 and we observed that he was getting more lethargic, refusing food and having bloody diarrhoea. We assumed that he is not going to cope with another round of admission, thus we made the painful decision to hire a housecall vet to administer euthanasia for him on 7 Jan 2022.
On the night of the 7 Jan, he became more alert and despite having no appetite for the whole week, we managed to give him some of his favourite biscuits, a few grains of rice and 2 small pieces of mango. We viewed that as a sign that he knew his time with us was coming to an end and wanted to eat at least something and give us some comfort before crossing the rainbow bridge. We carried on with the euthanasia, without the knowledge that he was given the wrong medications meant for another dog. And this proved to be the most tragic ending for him, and for us.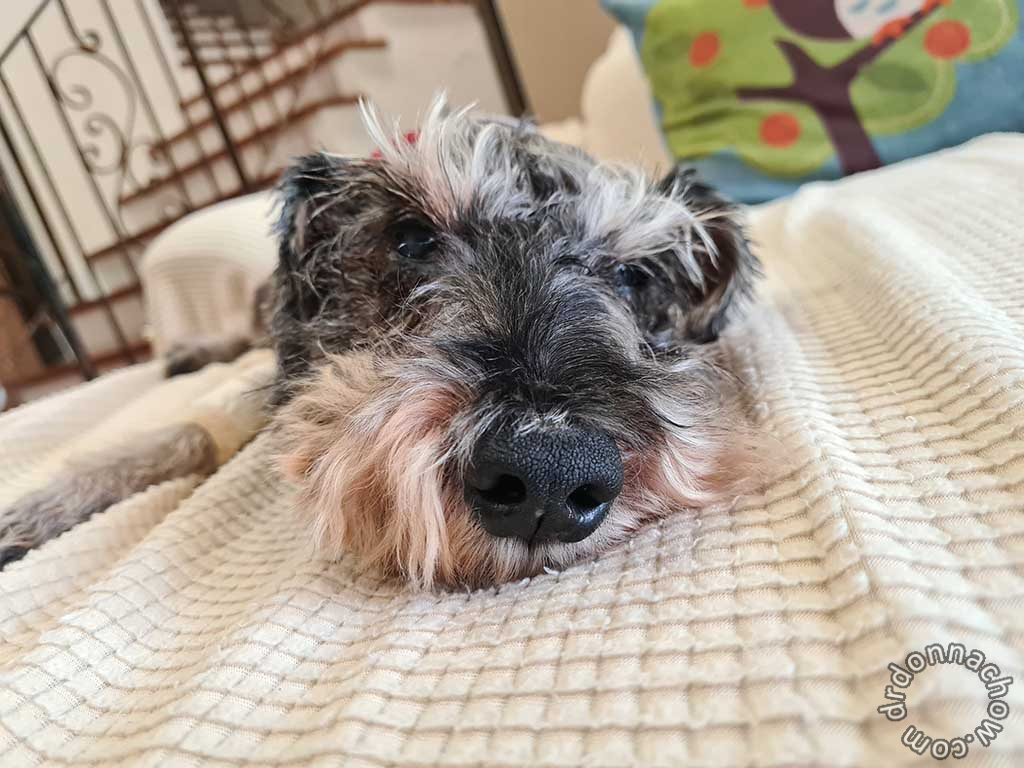 The discovery came too late…
The discovery of the wrong medication was made on the morning after the euthanasia. I was clearing his medications when I saw a particular package lying on the table. It was pimobendan, a calcium inhibitor – a type of heart failure medication meant for another dog. My husband had collected the medication from Mount Pleasant and with all the other medications that were given, he had omitted to check the name of the dog on the package label. We were preoccupied with the dosages and frequencies of the oral medications, eyedrops and administering his subcutaneous drip that we forgot to look at the name on the package. We are at fault for failing to counter-check his name as we have presumed the right medication was given to us at discharge. The external packaging of the medication looked similar to omeprazole, which he had been getting from Mount Pleasant. And it was obvious that there had been a mixed up and the staff had erroneously given us the wrong medication.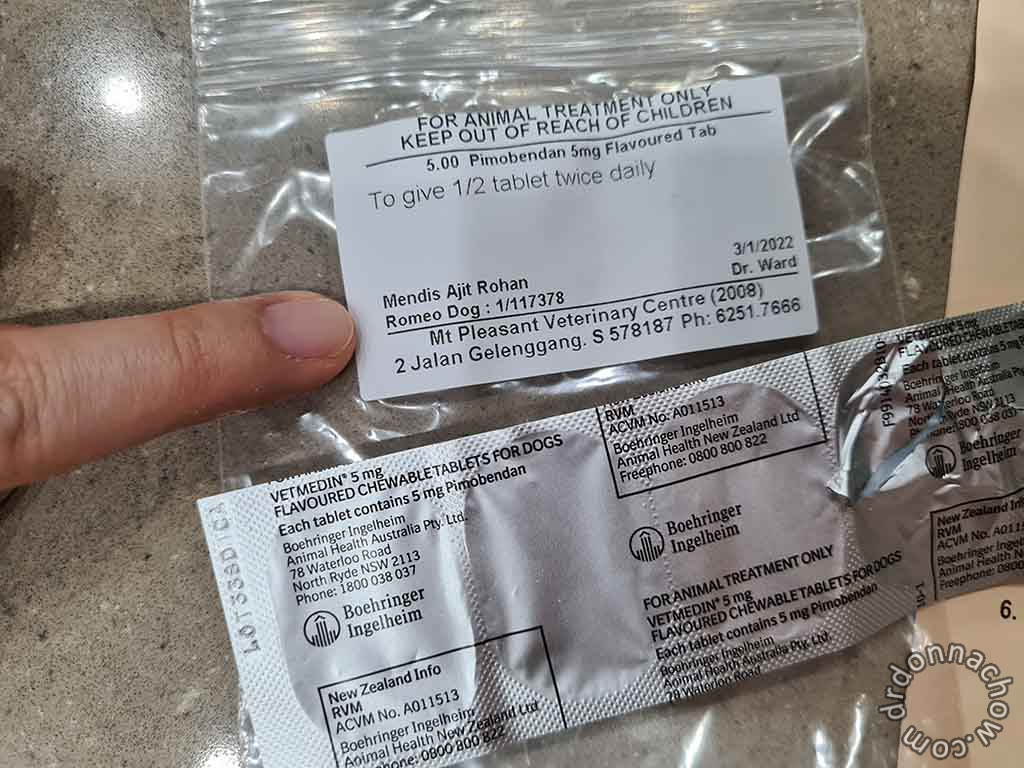 And the question that comes to mind is this:- Was the medication that was meant for Ah Bee dispensed to the other dog owner? Did he discover the wrong medication and return it to Mount Pleasant? If that is so, why were we not notified about this medical error? Is there some cover-up of sorts from the hospital staff? If this other dog has been diagnosed with heart failure and got the wrong medication – how is his condition now? Ah Bee has suffered enough from the consequences of this medication mix-up. He lost his life, and a good number of days with us. He might be terminally ill, but that doesn't mean he has no right to live a few more days or maybe months. How can we prevent such future incidents from happening?
We have grieved beyond words. The side effects for pimobendan bore similarity to the symptoms of Ah Bee was experiencing in the final days leading up to the euthanasia – lethargy, loss of appetite and diarrhoea. The dosage in this case was estimated for a 10 kg dog when he was only 5.8 kg. His reduced kidney clearance of the drug would also mean that he has a higher possibility of being over-dosed. Had he not been given this medication, he would probably have more days to live. We were saddened that an established veterinarian hospital such as Mount Pleasant did not have a proper system for dispensing medications. This would mean a difference of life and death for many pets. How can they be so slipshod in their management?
"Pimobendan has been known to cause rapid heart rate, vomiting, diarrhea, nervousness, collapse, convulsions, and possibly death if not treated right away. In addition, if given to a dog without a heart condition, the effects can be life-threatening immediately. This type of drug toxicity can be mistaken for other illnesses, such as a virus, and may be overlooked until it is too late."
Wrong bill given to us…
We looked through past hospital invoices, and found more errors. On one occasion, the staff made us pay a $600 deposit and allocated it to another dog's admission. It bears the name and address of another person. While this did not ultimately impact our final bill then, it is another example of a process failure at Mount Pleasant. We were left wondering how many more of such incidents were undiscovered, covered up or just purely ignored by Mount Pleasant staff. Medical clinics are governed by the Ministry of Health and doctors are regulated by the Singapore Medical Council. Is there no equivalent authority to step in to regulate vet clinics to ensure that medical negligence is looked into? When our pets are ill, is that the end of the road for them? Dogs are not just pets, they are our friends and our family. Pet hospitalizations are costly. We know it is a business. At the very least, we would expect them to hire vigilant and compassionate staff to man their premises. Why can't we extend the same or similar standard of care we have for humans to pets?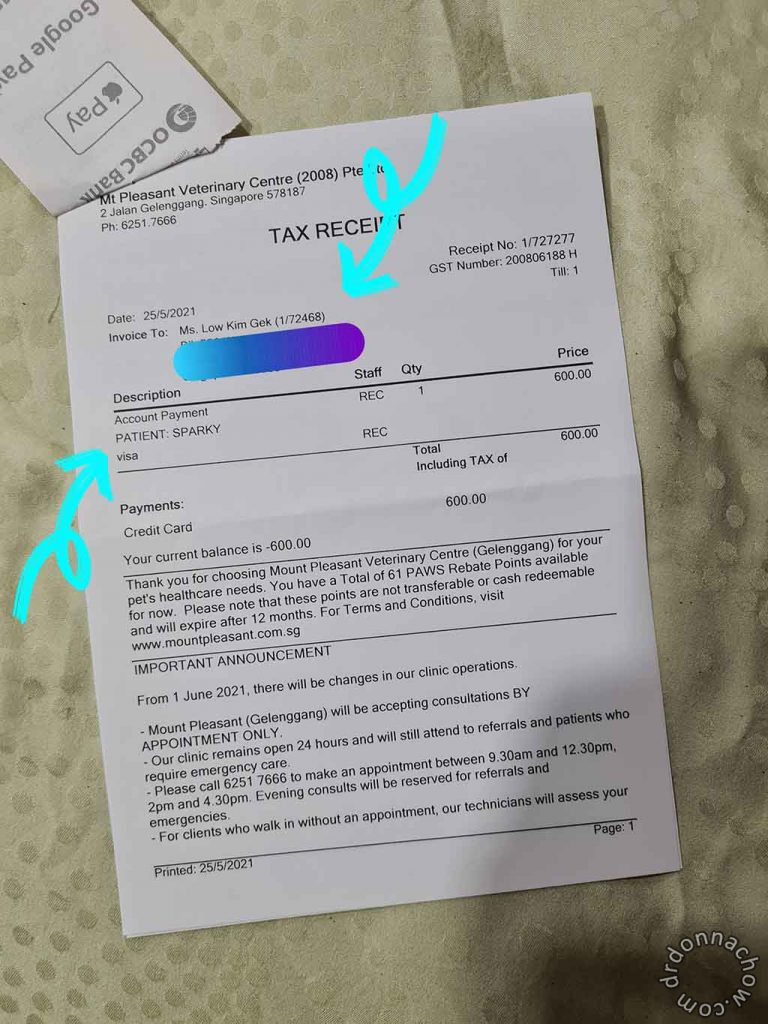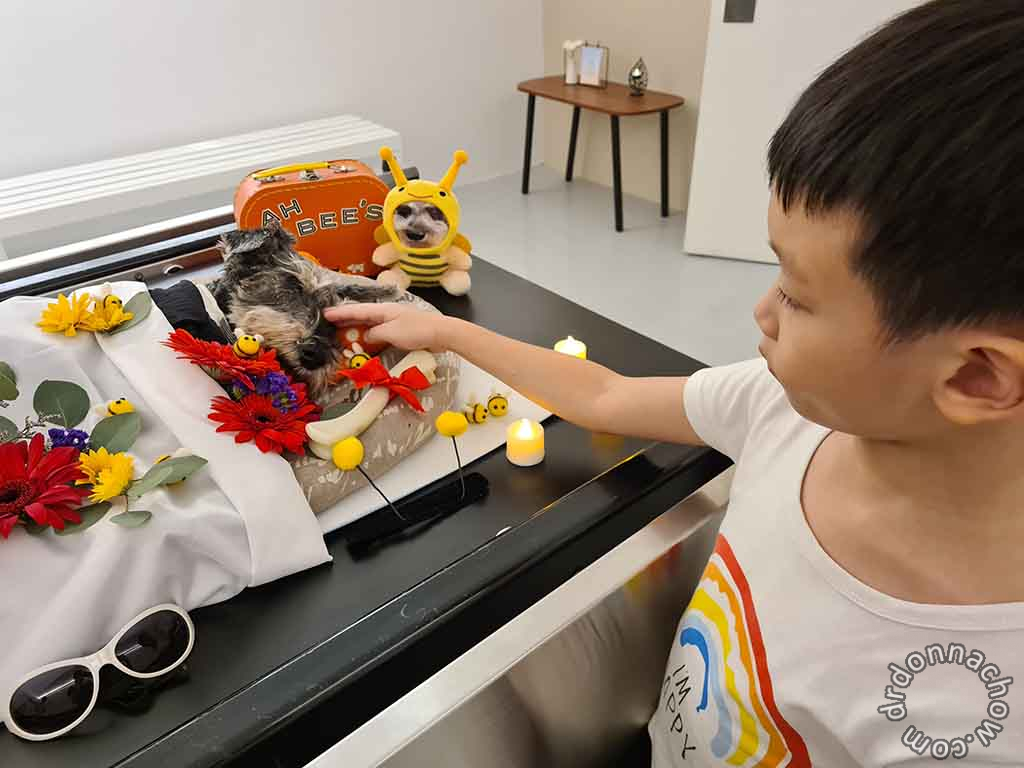 After knowledge of the incident, we were guilt ridden for making the decision to euthanize him. There is no room for u-turn for all the poor decisions we have made. If he had not gone for his cataract surgery, he might still be much alive today. To most people, he might just be an animal. But to dog owners, the loss of a pet is no less painful than the loss of a treasured family member. We had to put aside our sadness and grief to prepare him for his cremation. This tragedy served to remind us of the failings of humans, and we should never have absolute trust and complacency in any system. We miss you, Ah Bee.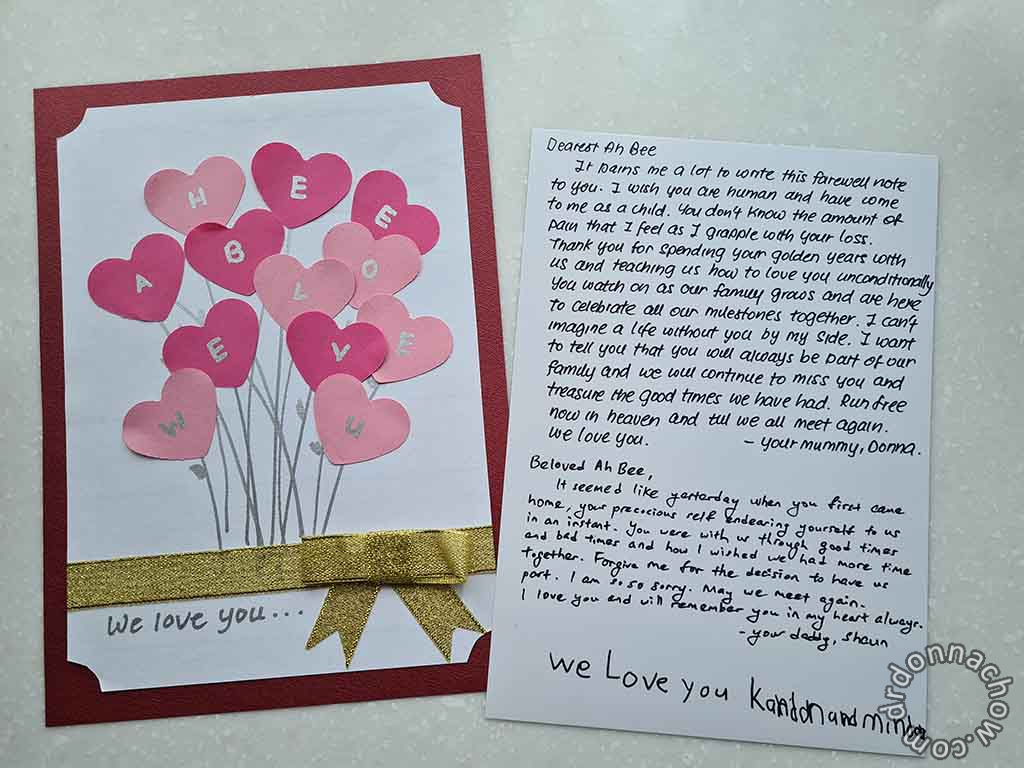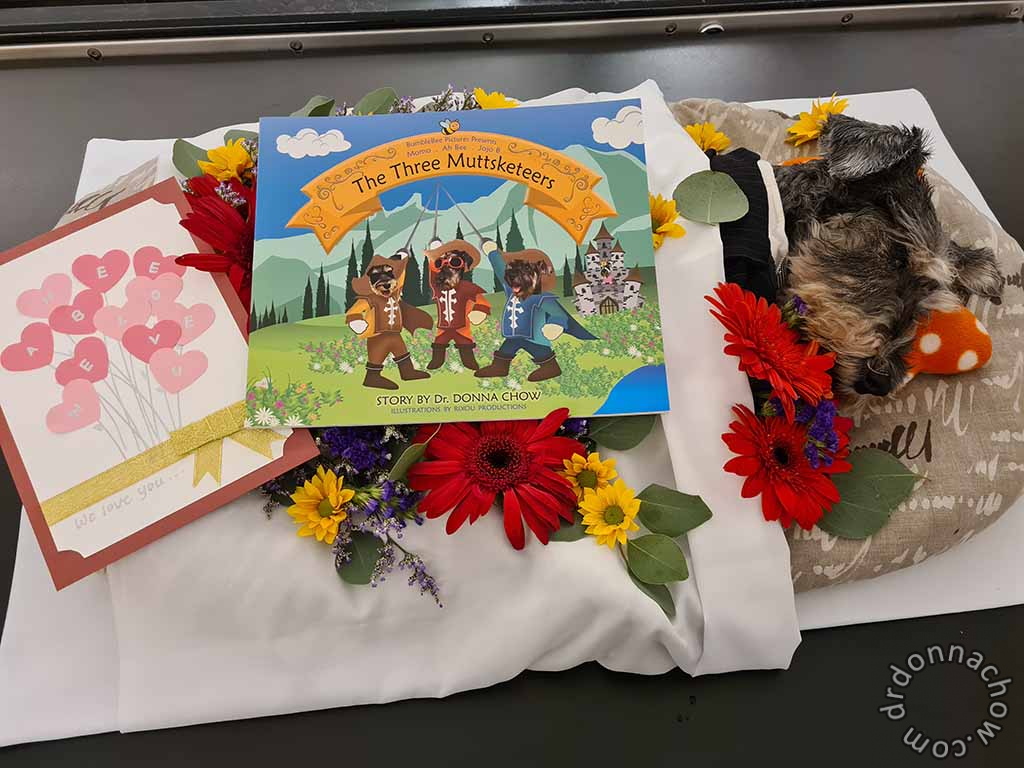 I have written an open letter to Animal & Veterinary Service (AVS). Please read by clicking the link below.
Prevent pet death due to irresponsible vets – Regulate vets today.
Let Ah Bee's early demise help to leave a legacy to improve pet welfare in Singapore.
Read my Afterword of Ah Bee's Tragic Demise